I don't even know where to start for Lia and Allen's wedding. Last year an event coordinator messaged me through Instagram, asking me to take pictures of her setups. I had never met her before, and I really don't know how she found out about me. But one Saturday, we met to take pictures of her event set ups, and she snuck in a couple family pictures and portraits with her boyfriend. A couple weeks later, I got a text from her saying that she loved the photos and that she was engaged! She wanted me to be her wedding photographer.
The wedding day began at The Inn at St. John's in Plymouth. Because of its classic style, the inn is one of the most popular wedding venues in the Detroit area. Lia got ready in one of the presidential suites at the inn, and that's where we began shooting the details. You only need a glimpse at the details to get a taste of just how elegant and upscale this wedding was!
And there was a dress. Not just any dress. This dress epitomized everything about Lia. From the flirty silhouette to the detailed beading to the romantic skirt, no dress could have been more perfect for this bride.

Then we quickly moved to the groom's side.
11 groomsmen. E-L-E-V-E-N. This is not a Stranger Things reference. Average height of 6'2". More than half of them had played or were playing football. And one current NFL player. And I tell them what to do. Easy. I believe that the getting ready pictures are about interactions. It's about the inside jokes and shared memories while getting suited up for the big day. Moments like this just naturally happen.
All the groomsmen received monogrammed flasks from Allen for the wedding day. We got to have fun with them for a few pictures!
The flowergirls and ring bearer had the fun job of being deliverymen between the bride and groom. They each exchanged gifts from both the bride and groom, and they totally stole the show!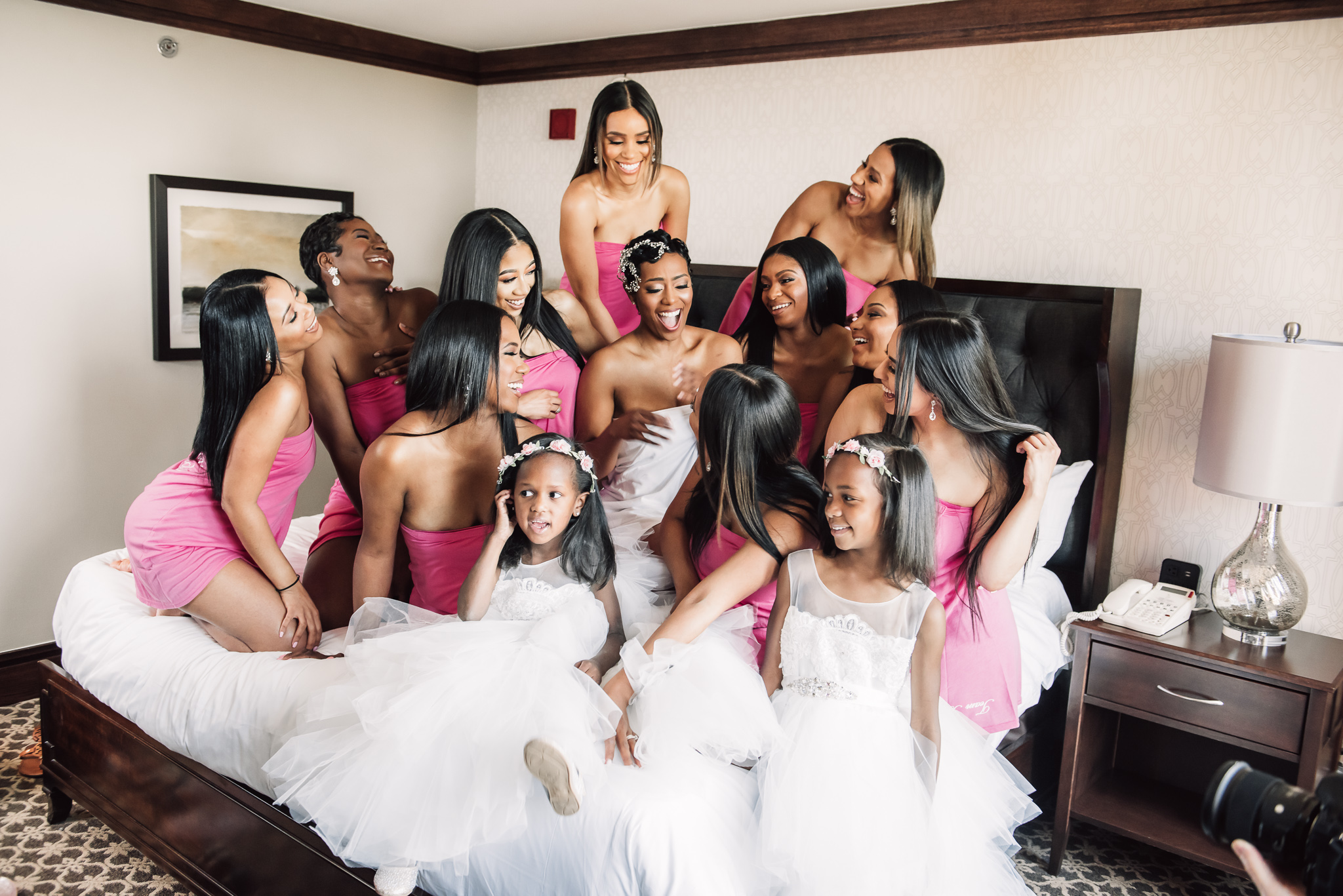 We went back to the bridal party as they finished getting ready. I won't spend too much time explaining what it was like when the bridesmaids were getting ready, but I can imagine that if I were ever to be part of a sorority, it would be a lot like hanging out with those bridesmaids! In fact, several of them were members of the Alpha Kappa Alpha sorority!
After both parties were finished getting ready, everyone except for Lia and her mother headed to the ceremony venue in a limo because Lia and her mother wanted to share some moments together while Lia got into her wedding dress. Surrounded by the perfect venue and wearing the dress of her dreams, Lia absolutely glowed.

Lia's mom, one of the funniest moms I've ever interacted with, couldn't be happier for her daughter and son-in-law. It was my privilege to capture the special moments between these two.
Meanwhile on the bus, Lydia was having the time of her life. Ok, maybe not. But the bridesmaids and groomsmen were! One thing we learned about this bridal party is that they know how to party.

Back to the inn! Lia had several surprises for Allen. One of them was renting a Rolls Royce! However, a few hours earlier, the Rolls Royce Lia had reserved broke down because of heat. So we had to compromise with a Bentley. Life is hard. Even though she had every right to be upset about not getting what she'd reserved for her wedding day, Lia was extremely gracious to the company and driver of the car. With the car situation resolved, we began the bridal portraits with the classic Bentley.

I think this is as "royal wedding" as it gets.

Shortly after the bridal portraits, I left the inn to go to the ceremony venue to meet up with Lydia, and Lia followed me in the Bentley. The ceremony venue was Kingdom Builder Church in Redford, which is where Lia's dad pastored. We set up the OCF (off camera flash) for the ceremony, and we were ready to roll! Then something happened. I got a phone call from Lia that the Bentley broke down on the highway, which pushed the ceremony back an additional 30 minutes. Since we were shooting a football wedding, I think it's only fitting to use this quote from Remember the Titans: "Listen, when something unexpected comes, you just gotta pick it up and run with it." And we did. Lia arrived safely, and the ceremony began. The guests filled up every single seat in the old church, which was without air conditioning on the 95 degree day. Yet no one seemed to be complaining because "some people are worth melting for." Right, Olaf? (said Lydia)
Friends and family from Michigan, Chicago, California, Denver . . . all came for this moment.
As the musicians sang "This Is Why I Love You," the bride entered.
You could tell how much Lia was loved as a sister, friend, person, and bride.
There were a few memorable moments during the ceremony. My favorite one was when Allen's grandfather, the officiator, began to lead the couple through their vows.
So that's it, folks! Mr. and Mrs. Allen Gant!
Not even the 95 degree heat, not even the lack of AC, not even the Rolls Royce and Bentley breaking down, literally nothing could stop them from having the greatest day of their lives. I think this picture shows that after everything that happened, it was all worth it.
After the ceremony, we went back to the inn to get some group pictures with the wedding party. Hidden away in a courtyard of the inn was a beautiful garden surrounding a waterfall. With that kind of setting and this group of friends, it was impossible not to get a fantastic picture. But still, this picture. I hope this picture will last as a reminder of just how happy everyone felt in this wedding.
When I think of Lia and Allen, one phrase that immediately comes to mind is "power couple." Lia was a superstar at MSU and Allen was a starting linebacker for the University of Michigan Wolverines. So I wanted to take pictures that showcase who they are as individuals, but more importantly who they are together.
If Forbes had a fashion magazine, I imagine their cover photo would look something like this.
Again, it was quite a squad.
To Lia, an event planner, decoration is very important. It was no surprise that the reception was going to be a focal part of her wedding, especially the set up. It was all decorated by her company, Prim Heiress Events. However, the entire setup was a surprise for Lia! Before we revealed the reception venue to Lia, Lydia and I went in to capture some pictures of the layout and details.
When we entered the reception venue, we were amazed at the elegance, scale, and attention to detail. We didn't know where to begin! From the beautiful flowers to the floating candles to the sparkling lights, Lia's reception was like something out of a romantic fairytale.
And now we are ready for the grand entrance! As you probably could have guessed, all of the members of the wedding party are pretty good dancers, and they weren't afraid to bust a move! While the wedding party was entering one by one, Lia and Allen were hiding behind the balcony on the other side of the room, watching their friends having a blast.
Best friend goals right here.
When everyone was expecting Lia and Allen to enter behind the wedding party, they made their surprise appearance from the balcony!
Shortly after they finally made their grand entrance into the reception.
Imagine 25 years from now. Mr. and Mrs. Gant enter the hall of fame.
Friends and family applaud. S/O to all the support. Give credit to God. Life is good. It'll be just like the wedding day. And maybe I'll be there to take pictures, too!
Lia and Allen went straight to their first dance which was set to "Best Part by Daniel Caesar.
"If life is a movie, then you're the best part." They picked a great first dance song!
You probably did something right if you find yourself a partner who can make you smile like this.
The reception program continued with the best man's and maid of honor's toasts to the bride and groom. While I was watching these people give speeches, I was amazed at just how genuinely wonderful they are. And I think this is good evidence of how much of a blessing Lia and Allen have been to others.
And the reception continued. More toasts, father and daughter dance, mother and son dance, cake cutting, sorority sister surprise sing off, bouquet toss (as intense as the final battle of Return of the King), garter toss with a football twist, and the opening of the dance floor.
There are many memorable moments from this wedding, but if I had to pick the most memorable moment of the night, it would be this one. After the father and daughter dance, Lia surprised her sister by inviting her sister to the dance floor because Lia's sister hadn't gotten to dance with her father at her own wedding. As an event coordinator who probably had her wedding planned since middle school, on one of the most important days of her life, Lia wanted to give her sister and father this special moment together.
This is the kind of story I want to tell: a story that gives hope. And this wedding was full of those stories.
"And that's what we storytellers do. We instill hope again and again and again."