Art and Kristina's wedding was my first of the year, so I can't deny that I was feeling pretty rusty in the days leading up to the wedding. Plus, this was the first time shooting with my new assistant, Lydia. As usual, I was not prepared for this at all, but my motto is always, "Everything is going to be ok!" And now two months later as I look back, it was the most memorable wedding of the summer.
The day began at 9 a.m. Lydia and I headed out to Kristina's brother's house in Ypsilanti, Michigan. By the way, Kristina's brother Victor owns a roofing company in the Downriver area, and I would highly recommend him. Based on the size of his house, I would say he is doing pretty well. The groom and his groomsmen were getting ready at Victor's house.
Art specifically asked me to photograph the cufflink that was made for the wedding day. The date of the wedding was engraved on the cufflink, and it was very important to Kristina and him.
Fun fact: they are Kristina's brothers, not Art's brothers, but they all look a lot alike. All the groomsmen were Ukranian, and most of them were bald.


We quickly moved on to Kristina's parents' house where she and the bridal party were getting ready. I saw some flowers blooming in the tree in their backyard, so I mercilessly ripped them from the tree. Anything for a good picture, right? Kristina's engagement ring was a beautiful solitaire diamond in a simple setting. Placing the ring in one of the flowers in the bouquet is one of my go to detail shots. Whether the ring is actually big or not, I can make it look gigantic. In this case, I didn't have to because the ring itself was actually gigantic. We added the shoes, perfume, and other accessories to the detail shots to capture exactly what the bride wanted.


After capturing the details, we moved on to photographing Kristina and her bridesmaids getting the final touches to their hair and makeup. Hair stylist Jenny Kazlauskas did a great job! Jenny and Kristina also went to school and church together and have been friends ever since.

I will never fully understand exactly how the bride feels while she is getting ready on her wedding day. But this kind of pictures gives me an idea.
Kristina had matching button-ups made for her bridesmaids and flowergirls, and of course we needed a group picture. When I set up a group picture, I usually ask them, "Have you guys seen the show Friends?" Imagine you are in the cast and the person next to you is Phoebe!" And usually the picture turns out great!
With the help of her mother, Kristina put on her wedding dress. I'm not sure if you can tell, but they are related.
For the family and friends of the bride, seeing her in her wedding dress for the first time on the big day is a special moment. Kristina's bridesmaids loved her well and couldn't be happier for her and Art.
Now we are ready for the first look. We went to the Law Quad at the University of Michigan in Ann Arbor. This location was special to Art and Kristina because we took their engagement pictures there in December. It was freezing back then, but this time we were blessed with a beautiful sunny spring day. Art had waited for this moment for a long time, and God brought Kristina into his life last year. Based on his smile, I think the wait was worth it.
These pictures tell the story all by themselves.


This moment was Disney-esque. Definitely channeling Rapunzel here (said Lydia).
We were about to leave when someone came out of of the door we were shooting by. We had no idea what was inside, but my instinct was telling me we should check it out. It did not disappoint! The tall arches, brick walls, and beautiful windows made us feel like we were in a castle. And every castle needs a lovely princess and prince charming!


After the first look pictures, we headed off to the ceremony and reception venue, Fox Hills Banquet Center in Plymouth. The venue was located on a golf course, so there were plenty of open fields to shoot the bridal party group pictures. Kara, our amazing wedding coordinator, reserved golf carts for the entire crew to use. We had so much fun! I confidently led the caravan of 8 golf carts with at least 16 bridesmaids and groomsmen to a quiet lake on the golf course while jamming out to "Body Like a Back Road." We were cruising. At one point, I realized we were going the exact opposite way we should have gone, but I just kept driving hoping that we'd somehow connect to the right road. We didn't. In the middle of the golf course with 8 golf carts following me, I had to turn around and start all over again. It was one heck of a ride. But we ended up where we wanted to be!


The sunlight made it pretty hot outside, but Art and Kristina's bridal party gave their all to the group pictures!


Kristina's bridesmaids were so fun to interact with. They all loved and admired Kristina. Friends from college, sisters, sisters-in law, cousins, nieces - they were all happy to celebrate Kristina's wedding day, and they are blessed to have Kristina as their friend, and Kristina was blessed to have them around.
Kara Neal, the wedding coordinator, did a fantastic job decorating. It was classy, simple, and elegant. Both the ceremony and reception were beautiful. The floral centerpieces, touches of greenery, and soft candlelight added romantic touches to an incredible venue. And they had a cool kids table! The reason it was called the cool kids table was because we were assigned to sit their. And some other not-so-cool kids were their, too.



For the wedding cake, Kristina kept it simple with white frosting and real flowers with a golden topper shaped in beautiful lettering. That's enough about the cake. But the picture next to the cake was a piece of art. The photographer did a great job.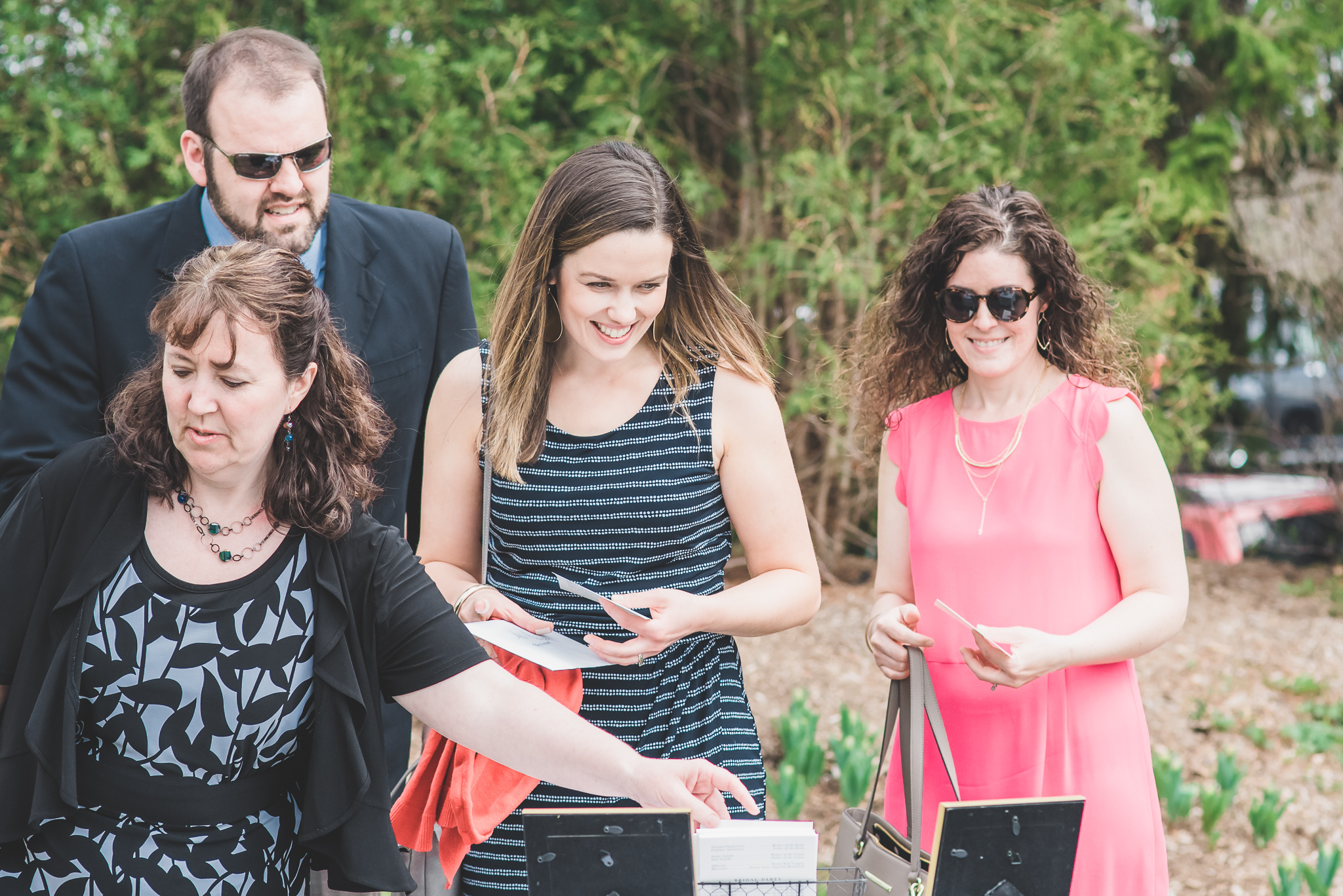 The guests began to arrive. It was such an enjoyable wedding because we personally knew so many of the guests. Shout out to Emma! She also helped decorate alongside Kara.
The ceremony began as family members were escorted to their seats and the pastor, groom, and groomsmen made their way down the aisle. The bridesmaids processed down the aisle as everyone waited for the bride to arrive.
If photography has taught me anything, it's that it's the simple things, the little moments in life matter. Prayers, simple, kind gestures, a smile, promises, hugs, little encouragements, and Chick-fil-A nuggets - we should never take these things for granted.
They made their vows, exchanged their rings, and Pastor Rick Gregory prayed for Kristina and Art's marriage. Personally, it was one of the most gospel-centered challenges I have ever heard in a wedding.


Kristina's cousin Angelina, also another student of Lydia (so influential), sang It Was Love, reflecting on the love of God present in Art and Kristina's relationship.

One thing I learned at every wedding is that no matter how much you prepare or plan there will be something unexpected. At this wedding, it was the unity candle. Because of the strong wind that day, the lighter couldn't light the candle! It took way longer than it was supposed to, and everyone tried to block the wind or use a different lighter, but no one could get it lit up. But these are the moments you look back on and laugh at. Just like the wise man once said, " I wish somebody would've told me, babe, someday these will be the good old days."

After all, Pastor Gregory saved the day with witty comment: "Believe it or not, there is actually a lot of fire between them!" He's good.
And there it is, folks! Mr. and Mrs. Art Sedyhk!
I am lucky to have incredibly sweet brides! And Kristina was not an exception. Art and Kristina wanted to surprise their parents, so instead of exiting right away, they gave each parent a hug. Even on the day of the wedding, possibly the day where somewhat selfish gestures might be forgiven, Art and Kristina still wanted to honor their parents and make sure they knew they are appreciated. I find these moments very admirable.
Before we entered the reception, we took a group family picture. It was a big crowd; however, I was able to fit everyone into the frame after about 20 attempts. I said, "3...2...1...smile!" and took about 10 pictures just to make sure everyone was looking at the camera, smiling, opening their eyes, etc. And it turned out to be one of the best pictures I've ever taken because it looked like this.

I was still in manual mode for some indoor pictures! The family members began to disperse as I realized my error. I had two thoughts in my mind: I could just let it go and have the families enjoy the reception or I could gather everyone again to take one more shot, slightly prolonging their misery.
Then one person came to my mind: Steve Harvey.
A couple years ago he hosted the Miss Universe Pageant, and he accidentally announced the wrong winner. He had a choice to make; he could let it go and apologize later or admit the fault and fix it right away. He made the right choice by apologizing on the spot and announcing the correct winner. I personally didn't watch that incident live, but a couple days later I read an article that Miss Universe would invite Steve Harvey to host the pageant again the following year. That year Steve Harvey featured in a Super Bowl commercial in which he was able to laugh at himself. I learned an important lesson: own your mistake. Because after all, you don't know if the mistake could turn into the best thing that could ever happen to you.
So once again I gathered every single family member and lined them up for round two. Some of them thought I was joking, but I was serious. And now Art and Kristina and both sides of the family have a wonderful picture of their family together.
After finally capturing the perfect family picture, we entered the reception. Art and Kristina announced each member of the bridal party, explaining why each family member and friend was special to them personally and as a couple. After Arts father prayed for the newlyweds and their Art and Kristina's marriage.
Carolina, Kristina's sister, pointed out the exact moment she knew Art was the perfect man for Kristina. Like most sisters, Carolina and Kristina sometimes butt heads, and Carolina explained that sometimes it was over something as small as the correct way to use a tube of toothpaste. Kristina's pet peeve was when Carolina wouldn't squeeze all the toothpaste to the top of the tube, leaving that job for Kristina when she needed to brush her teeth. Jokingly, Carolina shared that quirk about her sister with Art; however, Art took the opportunity to show his love to Kristina by finding a device online that could be attached to the bottom of a tube of toothpaste and push all the toothpaste to the top. If that isn't true love, I don't know what is. It reminded of a quote from How I Met Your Mother. "Shouldn't we hold out for the person who doesn't just tolerate our little quirks but actually kinda likes them?"
The cake cutting was next!


After the cake, Kristina and Art played the shoe game. They were asked a series of questions and responded by holding up the shoe of the person who the question best described. This is a great game at a wedding because no matter what the answer is, everyone can still laugh together.
After a little break, we took the couple outside to capture the final portraits during golden hour.
Isn't it tragic that we only have 24 hours in a day and the best lighting for pictures only lasts maybe 30 minutes? But at the same time, I think that's what makes these pictures more special. They forever capture a beautiful moment in time, giving each second lasting meaning.
Shoutout to Kristina's friend Rachel who couldn't be there in person, but was there in spirit. And on a cardboard cutout.
After the sun had gone down, we came back to the reception, and Art and Kristina had one more surprise, again for their parents. They gave them each a vacation package, thanking them not only for the hours they'd invested into the wedding but also for the years they'd spent sacrificing their time and energy for Art and Kristina.
And that was it! We lined up in front of the banquet hall for the final send off. Somehow God brought a girl from Michigan and a guy from California together, and I wish them only the best in life. It was my privilege to witness another story of God's grace.